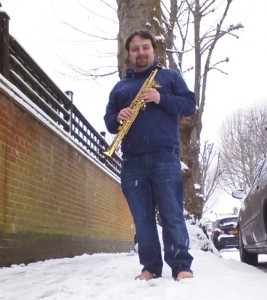 Ben Donnelly
Bandleader/Composer/Saxophones
Ben graduated in 2006 from the University of Surrey's Tonmeister degree course in Music & Sound Recording . He began his career as a London musician writing for and performing with progressive jazz orchestra LJC, culminating in their 2007 Album Dark Humour. After a spell of working around the world, at sea, and in the Middle East, he returned permanently to London in 2010, working as Arranger and Musical Director on Joe Francis's 2011 album "Where Do I Go From Here?".
Besides Platonic Curry, Ben can also be heard playing saxophone (and occasionally clarinet and bassoon) with the Hot Orange Big Band, Xsara, and Selectric.
Penelope Homer
Lead Vocals
Penny trained as a classical soprano, graduating from the University of Nottingham. Though typically at home singing Romantic lieder and the great choral repertoire, she's been enjoying bringing her sounds into the world of jazz, pop and folk, and with them some qualities that jazz hasn't yet met.
Steve Pigott
Guitars
Founding member of the band, Shetland born (though you wouldn't know it from talking to him) Steve is the envy of most working musicians, being so hard to pin down between tours and gigs all over the place. So we were delighted to have him back for the recording of Don't Buy The Sun and look forward to playing with him again on the album launch and beyond.
www.stevepigottmusic.com
Steve features on tracks 1, 3, 5, 6, 8 & 9 of the album. Guitars on tracks 2, 4, 7 and 10 by Manolo Polidario.
Thomas Dortel
Drums
Tom's been settled in London now for quite some time after moving over from his native France with degrees in music theory, classical piano and marketing amongst other things. After running funky covers band Hot Igloo, Tom has been with Platonic Curry since the beginning and when not behind a drum kit has been instrumental in the design of the website and branding for the band.
Daniel Dibdin
Piano
Raphael Bushman
Bass